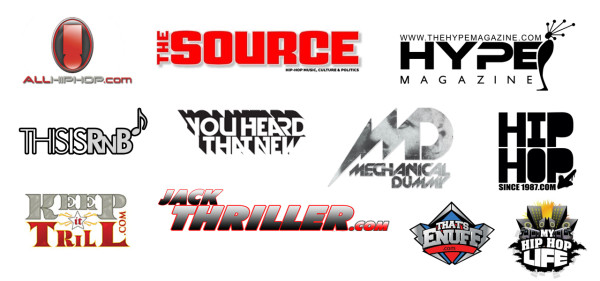 In my previous post on Being Your Own Publicist I briefly mentioned a few public relations tactics you can use as an independent artist. I realized shortly after publishing it, that I didn't provide enough details on how to actually build out a press contact list. So here's some tips on how to do so:
First categorize your list by types of media coverage

For instance I have an ongoing excel sheet with one tab for press - this includes music editors, music bloggers and influencers.
Then I have artist liaisons for another sheet tab that consist of playlist curators, people that can put your music front & center on the paid platforms such as Spotify, Pandora Radio, Tidal, etc.
You can also organize by type of press - magazine, music blog, radio/podcast, YouTube/TV, etc. 

Make a list of all the music websites, blogs, radio shows, podcasts, YouTube shows that you would like to get coverage or exposure to

Note make sure they actually covers music news on your type of music genre 
A site that only covers Deep House music for example, is going to have no interest in your new hip Hip Hop/Rap single 

Research each site to look for a pitch angle 

What sort of topics do they cover? 

Do they have any themes .i.e. Music Monday or New Music Friday that you can capitalize on? 

Then ask yourself based on the level you're currently at in your music career, does it make sense for you to be on this platform? For instance, does the site usually feature underground or up-and-coming artists or do they typically only highlight mainstream, high-caliber artists?

Next, find the appropriate editor to contact from each of those sites

99% of the time editors will be listed at the top of the article with a hyperlink to more of their articles or site profiles with more contact details

Read some of their articles to get a feel for their writing style and how you can incorporate that into your press pitch

How to find editors' contact info when it's not available on the site:

ContactOut is a great tool that I use (only available for company emails, no gmail accounts)

You download the ContactOut Google Chrome extension onto your browser

Next type in "______(name of editor) complex magazine LinkedIn" and if the editor is on LinkedIn, the profile will appear on Google search. Next click on the profile > in the right hand corner you will see the ContactOut icon > show email > enter that email into your contact list along with name, title/position, company, etc.

Note: you can also use this tool to find the appropriate editor to contact - i.e. music editor complex magazine LinkedIn, and all the profiles related to that title and/or publication will appear in the search results also

Hunter is another excellent tool that allows you find any email addresses 

Simply enter the URL > www.complex.com > it will provide the format the company uses for their employee emails such as first name. last name@complex.com or first initial.last name@complex.com (i.e. john.doe@complex.com or j.doe@complex.com). 

Social media is your ally, I promise you

Instagram and Twitter can also be a useful exploration tool. Enter branded hashtags or related hashtags into the keywords section and see what you find. Often times editors or people within the company of the publication you are trying to reach will include company (branded) hashtags or hashtags related to their job for their personal posts - i.e. #musiceditor #musicblog #musicpress, etc. This is a great way to discover editors and publications you've never heard of. 

Several Instagram users are opting-in for business accounts versus personal accounts which allow visitors to contact them directly via the email button on their profile

It's also not unusual to see editors or influencers put their email in the bio of their social profiles as well

Don't be afraid to DM or tweet editors asking for their email or the appropriate point of contact for your inquiry. The worst they can say is no or not answer at all. You have nothing to lose and far more to gain by doing so.

Each technique has its limitations, but there's always a way to work around it so do not get discouraged. I encourage you to constantly seek out more effective ways to save time and energy building your list. 

If all else fails, and you can't find any email, you can use a general press@____.com email. Just make sure you use an attention-grabbing headline and killer press release to make opening and reading the email worth their while. 
Building your press contact database can be extremely time-consuming, but it is manageable, and most importantly, it is necessary. Continue to add, edit, and organize your lists for better accuracy. Editors often leave, move to new publications or transition into new positions within the company. It's important to keep your list current, so you can always remain one step ahead when doing your media outreach. I advise to include as many filters as possible for your contact data: name, email, phone, location, company, position, links to past articles, topics covered, and notes. The more knowledge you have about the editor to include in your pitch, the more likely you are to peak his/her interest. 
Have some PR hacks you want to share? Comment below with your thoughts.
Thanks for reading The Indie Hustle.
-artistnameleon