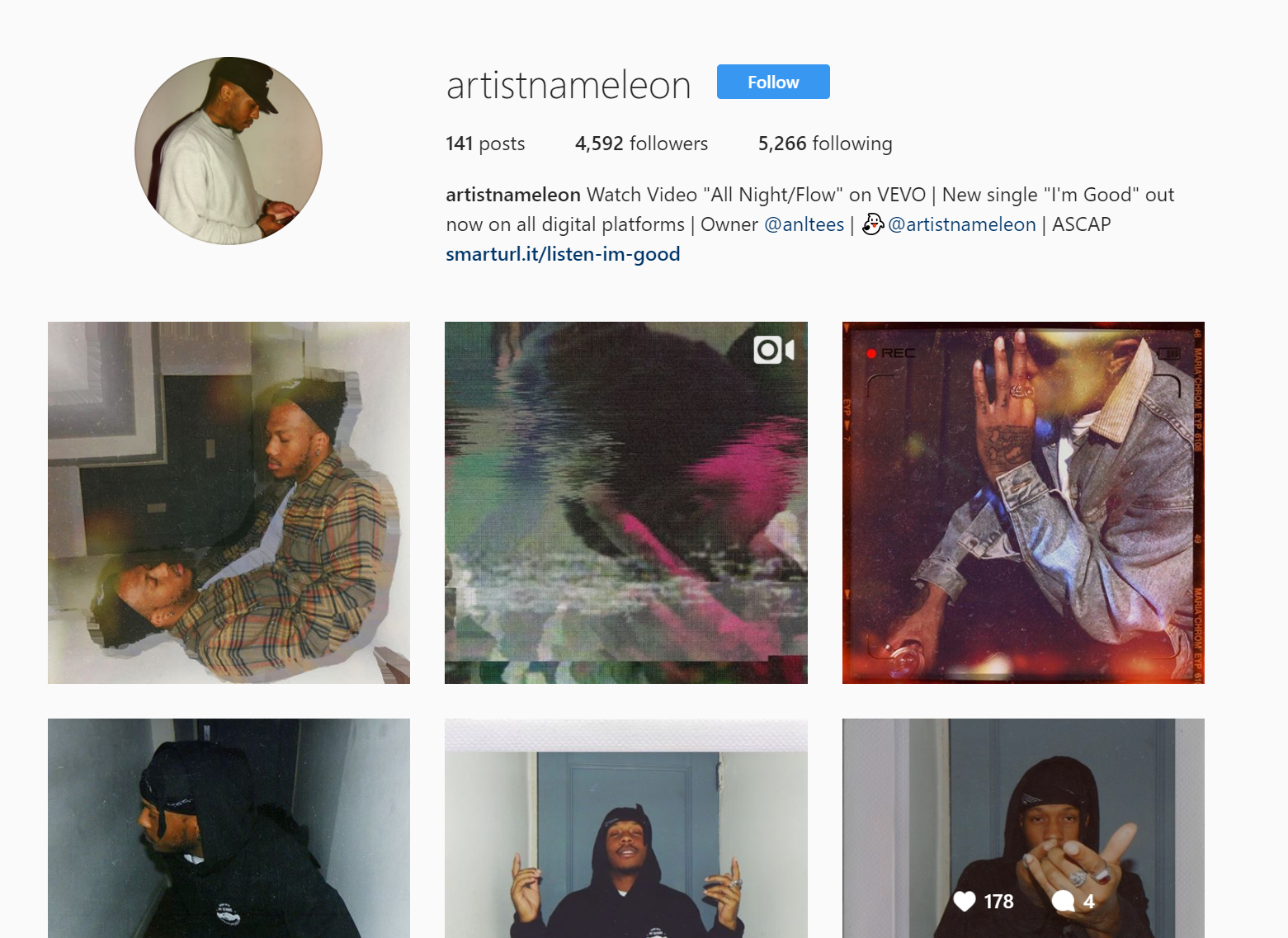 Everything nowadays, especially in the music business, is determined by how many followers you have. How many times have you gone to a social event, whether it be a party, show or networking event and someone asks, "oh, what's your Instagram handle so that I can check you out?" What they really want to know is how well-known or important are you and is your personal life and/or career interesting enough that I should know about it? Without a doubt, we live in a different era where following and reputation matters. I know a lot of artists can relate when I say I despite it, but I understand building my online presence is crucial to my career and reaching a larger audience. I am sure there are many of you out there thinking "where do I even begin? I only have X number of followers and I've been at it for months and am seeing little to no progress. It's impossible.!" But I assure you nothing is impossible. 
When I started my Instagram account in February of this year, I immediately followed everyone I knew on a personal level, which only amounted to about 80-100 people or so. Well it's now November and I am at nearly 4,600 followers. That's a 4500% increase in 10 months time. And as I've mentioned in previous posts the last thing you want to do is 'purchase' followers. I tried that in the beginning and trust me when I tell you it's a total sham. Guarantee if you pay for 1,000-5,000 followers for $30, your account followers will quickly go up just as fast as they go down the following week. They just gypped you and provided you with ghost (inactive) accounts and accounts created by auto bots, a.k.a. fake ass accounts. So, if you want to know how to build your following the right way, then now's the time to take notes. 
Like, comment, and follow accounts related to the industry you're in

You can do this by entering industry-related hashtags in the search tab on Instagram and Twitter
If you want to keep your following: follower ratio balanced, you can use apps that allow you to see who's not following you back and quickly unfollow to get that count back down to a desirable number.
Instagram allows up to 60 unfollows within an hour. Don't try to work your way around it because Instagram may flag your account as spam, and remove it or put it under review 
And if you want to save yourself the time and energy of following and unfollowing people manually you can opt-in for Instagram growth services such as Socialgear, RiseSocial, or similar services to do it for you. 

Note do not get these confused with buying followers. It's what's called a marketing automation platform. You select the hashtags and/or target accounts similar to yours that have the same type of audience you're trying to reach
The software will use these filters to like, comment, follow, and unfollow on your behalf. This allows you to focus on creating quality content and engaging with your audience and letting these growth services manage all the other tedious tasks of account maintenance that I assure you is a pain in the ass

Use hashtags for every post, especially branded hashtags

Look up #artistnameleon, guarantee you will find no one else competing for this same hashtag, because its a branded hashtag. Own that shit. So every time someone enters that branded  hashtag all they're going to see is the content you're creating or posts your audience is tagging you in.
Research shows the that posts with hashtags get 12.6% more engagement and that the the sweet spot is 11 hashtags per pos

Create quality content 

Good imagery is key, make it interesting. If it's on Twitter make it entertaining or valuable enough for people to want to RT it

Note there's no single way to this approach. Do your research and see what similar accounts relevant to your industry are doing and how their audience is engaging with that content 

Remember they're taking time out of their day to see what you have to offer, so make it worth their while

Engage with your audience - take 5 minutes out of your day to scroll through your feed and like, comment, and reply to users commenting on your posts to let them know you appreciate their support 
Focus on building one platform at a time but don't neglect the others

Right now because my time and resources are limited, I've chosen to put most of my focus on building my Instagram following. But this doesn't mean I don't post new blog posts, music news or motivational quotes on Facebook and Twitter. 
It's very time-consuming to build your following across all channels especially if you don't have an entire team helping you. Trust me when I say these bigger artists have an ENTIRE team.
Save yourself the anxiety and stress and focus on the platform that is most important to you
You can use social media management tools like HootSuite or Crowdfire to schedule posts, post simultaneously to multiple platforms, etc.

I personally use Crowdfire and it's great: I can search content and news related to the hashtags I'm interested in or that my audience would be interested in. I can then share on my Twitter, I can also unfollow/unfollow on Twitter, or create automated direct messages when someone follows me. The list goes on. Download the app STAT!

Then once you've reached a desirable following on that platform, start putting more energy into building the other one. Every platform is completely different and needs an entirely different strategy and separate way of approaching it. I suggest first starting with Instagram, then Twitter, Facebook, and ReverbNation (if you have it). 

Here's a great article from Buffer Social on what type of content to post for each platform 
I know that was probably a lot to digest, but at the end of the day how do you expect to generate revenue in music sales or get people to come out to your shows if no one has heard you? My point exactly. So start trying out some of these tools and suggestions and guarantee you'll start seeing results. 
Thanks for reading The Indie Hustle
-artistnameleon &